UNESCO World Heritage Site List of Nepal
UNESCO World Heritage Site List of Nepal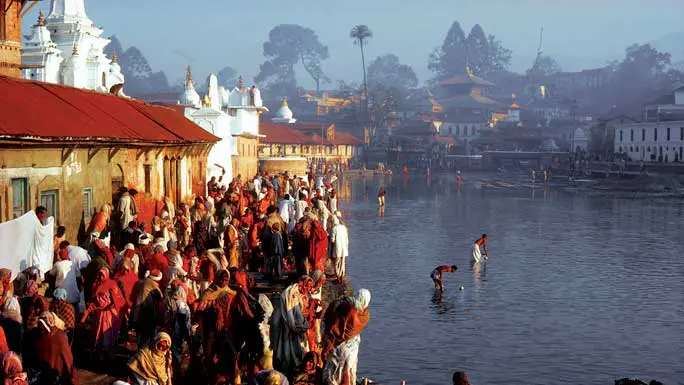 Astonishingly beautiful, Nepal, is a Land blessed with Nature, Culture and great history. Often known as the Land of Himalayas and Land of Peace symbolizes Nepal as the home of highest peak of the world i.e. Mt Everest (8848 M) as well as the 'Birth Place of Lord Buddha'. Looking back its history, many Kings and Warriors have fought for lives uniting the scattered land to one as Nepal, it has great significance. During those period many kings from different dynasty ruled this mighty land and so evolved different architects, cultures, Holy shrines and Temples and lots more. As the Consequences, they have not only become so precious to Nepal but also to the whole world in terms of History, architect, religious importance and a mystery in itself. And many of them like Lords Shiva Temple (Pashupatinath), Bouddhanath Stupa, Lumbini, Sagarmatha National Park, Chitwan National Park, Swyambhunath Stupa, Kathmandu Durbar Square, Patan and Bhaktapur Durbar Square,etc are now enlisted in World Heritage Sites Lists which is a pride to this Nation and its People.
Following are national heritage enlisted in World Heritage Site by UNESCO.
Lumbini – Birth Place of Lard Buddha
Pashupati Nath Temple
Sagarmatha National Park
Chitwan National Park
Kathmandu Durbar Square
Patan Durbar Square
Bhaktapur Durbar Square
Changunarayan Temple
Bauddhanath Stupa
Swayambhunath Stupa
1. Lumbini – Birth Place of Lard Buddha
Lumbini is a pilgrimage site of Nepal and is the birth place of Lord Gautam Buddha. It is the place from where Buddhism started and it lies in Rupandehi district of Nepal. Situated in western Nepal, Lumbini is an ancient town where old ruins of ancient city are well preserved. The holy site of Lumbini has ruins of ancient monasteries, a sacred Bodhi Tree, an ancient bathing pond, Ashoka Pillar, Mayadevi temple and sacred garden. Lumbini has been a holy ground for Buddhists all over the world. The peace Garden and international monastic zone are the other attractions of Lumbini after the Mayadevi temple Pushkarni pond and the historic Ashok pillar. There are different archaeological sites around Lumbini like Tilaurakot Kunda, Ramgram Niglihawa and others. It is a must visit place in lifetime by a devotee which creates awareness and apprehension of the nature of impermanence. Its area is surrounded by beautiful and rich natural setting of domestic able fauna and agricultural environment. The region is an exquisite treasure trove of ancient ruins and antiquities. It is still described as beautiful garden in Buddha's time, still retains the legendary charm and beauty of the place.
2, Pashupatinath Temple
Pashupatinath temple is the biggest hindus temple complexes in south Asia. It is the most famous tourist site in Kathmandu of Lord Shiva's temple, Pashupatinath Temple, which lies about 5 Km north east of Kathmandu. This temple is holiest Hindu Pilgrimage Shrines in Nepal with two tiered golden roof and four silver doors is situated of the bank of Bagmati River. Pashupatinath, 17th century temple, is a pagoda of brass and gilt with the silver plated gateways where non Hindus are not allowed to visit here but they can only see the gilded "Nandi, a bull", Shiva's Vehicle, inside the temple. They cannot enter the temple compound but can see the whole area from high Vantage point. It has very religious prestige and importance for Hindu's all over the world and whole nation. Apart from the main shrine there are numerous temples dedicated to different gods and goddesses in the Pashupatinath temple area. The arts, cultures, beliefs, hopes, prayers, ancient carvings and having great spiritual and traditional importance it has become successful in making its position at UNESCO world heritage sites lists. Many tourists visit this holy temple every year and it is believed that one's misfortune, bad luck, mistakes, obstacle in life and devotees sorrow are all washed away by Lord Shiva and give happy life after. Thousands of devotees gather in here during Shivaratri Festival and worship their almighty. This festival tells everything about this temple, devotees and its importance.
3, Sagarmatha National Park
The Sagarmatha National Park is Nepal's most popular national park as it is home to world's tallest peak of the world Mt. Everest (8848 M) or other prominent peaks most of which are over 6,000m. The park was established in 1976 and in 1979 it was declared as the world heritage site. It is Nepal's first national park to get that reputation. It encompasses the area of 1148 Sq. Km in Solukhumbu district lying adjacent with Makalu Barun National park in east and catching the upper Bhote Koshi as well as Dudh koshi River. The park is full of rugged terrains high mountain peaks deep gorges and glaciers. The park is home to different rare species in the likes of snow leopard wolf, lynx, red panda, musk deer, and black bear. The landscapes here are very rugged, steep, deep glaciers and deep valley with climatic zones of forested temperate zones, subalpine zones, alpine and nival zones. Flora and Fauna like birch, juniper, blue pines, firs, bamboo, rhododendron and several animals live here. Likewise, the park is also home to beautiful Sherpa villages, historic monasteries and cultural landmarks.
4, Chitwan National Park
Chitwan National Park is one of the most preserved conservation areas in Nepal. It was formerly called Royal Chitwan National Park which was established in 1973 and granted the status of World Heritage Site in 1984. Lying in Chitwan district along the Indian border, Chitwan National Park, 932 Sq. Km., is easily accessible from capital, Kathmandu which is inhabitant by; 50 species of Mammals, 55 species of amphibians and reptiles, more than 450 species of birds, and many more. Here you will see rare One-Horned Rhino, Royal Bengal Tiger, Wild elephants and Deer, leopard, Gharial Crocodiles, Hombill bird, and other wild animals and birds. Without any doubt Chitwan is a paradise for wildlife adventure lovers and Jungle Safari. Chitwan is hot in its climate during summer and cold during winter. The park consists of a diversity of eco-systems including the churia hills and the stretched flood plains of the Rapti and Narayani River. Chitwan national park has great importance in ecological aspects also in terms of protection of extinct species.
5, Kathmandu Durbar Square

Kathmandu Durbar Square is the spiritual heart of Kathmandu. It is the plaza in front of old Royal Palace of Kathmandu Kingdom. It is the combination of 3 durbar squares in Kathmandu valley and all of them are enlisted in UNESCO world Heritage sites. It is the ancient seat of Malla and shah Rulers of Kathmandu valley. The Durbar Square is surrounded with spectacular architecture and vividly showcases the skills of the Newars artists and craftsmen over several centuries. The palace complex is home to many temples and monuments of archaeological importance and reflects cultural richness prevalent during the days of Malla rulers. This is a durbar of history and arts. Around here one can see artistic monuments, find the house of the living goddess i.e. Kumari temple, know Kal Bhairav temple, Hanuman dhoka and its red monkey god, and hundreds of erotic wood carvings. The kastamandap Temple house located within the durbar square is said to have been built from a single tree from where Kathmandu valley got its name. There is also a museum located at the Durbar Square which presents a complete history of Nepal's King and Rulers.
6, Patan Durbar Square
The ancient city Patan, city of fine arts, lies 5 km to the south of Katmandu in Lalitpur district. It is very complex architecture of Malla rulers is home to well-preserved monuments of historical and cultural importance. It totally reflects the skills and craftsmanship of Newar. This Newa Architect Durbar Square consists of different sections of ancient palace like Sundari Chowk (beautiful court yard), Keshav Narayan Chowk, the Tushahity (Royal Bath) which is a master piece of stone carvings and others are Mul Chowk (main court yard). There is a statue of King Narendra Malla sitting on the stone pillar in front of the palace in the main square. Next to it, there is a famous Krishna Mandir temple with 21 pinnacles built all of stones.Krishna Temple, Bhimsen Temple, Vishwanath Temple and Taleju Bhawani Temple are very famous in here due to its religious importance and crafts. Most of the people of Patan city are Buddhists. Patan is also very famous in its art work and many fine craftsmen in Patan who produce bronze/brass art work in different images/statues of Hindu/Buddhist Gods and Goddesses, silver jewelleries, wood carvings,. Most of the handicrafts you see in the local shops of Katmandu valley are produced in Patan.
7, Bhaktpur Durbar Square
Bhaktapur, city of devotees, lies to the east 12 km away from Kathmandu which is a complex Palace of the ancient Malla Rulers that once ruled the three separate territories inside the Kathmandu valley. Durbar Square of Bhaktapur is impressive, wider, clean and beautiful with beautiful Lion Gate, Golden Gate, 55 windows Palace, Batsala temple, barking Bell, the statue of King Bhupatendra Mall on a stone pillar, public bath and temple of Pashupatinath. On the left you will find the tallest temple of Nyatapole which means 5 tiers representing symbols of 5 basic elements of nature such as water, wind, fire, earth and sky. This is a highest pagoda temple of Nepal ever built with architectural perfection and artistic beauty in 1702 AD by the King Bhupatendra Malla. Next to Nyatapole is another giant temple of Bhairavnath, the God of Terror in three stories built in 1718 AD. If you walk ahead for about 20 minutes you will come to another square of a Dattatraya temple built in 1427 AD from a trunk of single tree. Behind the temple there is a monastery where you will notice exquisitely carved door frame and windows and also a famous peacock window back wall of the monastery.
8, Changu Narayan Temple
Changu Narayan temple is a masterpiece of several arts and crafts which was built in early 3rd century at the time of Lichchhavi rule in Nepal. It is believed to have been built during the rule of King Hari Dutta Verma which is adorned by some of the best samples of crafts in all stones, woods as well as metals. It truly is one of the Nepal's richest structures in terms of structure, history and arts.
The temple of Changu Narayan is located at the top a hill in Bhaktapur. It is located in the Changu VDC of Bhaktapur district surrounded by Champak tree forest and small Newar village called as Changu village. This holy temple is very important to all Hindu people as it is dedicated to lord Vishnu also it is the oldest temple in Nepal. This temple has the great milestone in Nepal's architecture with rich embossed works. The two storied roof temple is standing in a high plinth of stone with its own unique architectures and style which is surrounded by several sculptures as well as arts of lord Vishnu. Besides, images, temples, arts and crafts of several god and goddess like Lord Shiva, Ashta Matrika, Kileshwor and Krishna are found inside of the main temple. The temple has 4 entrances guarded by life size of pair of animals such as lions, sarabhas, graffins and elephants on each sides of it. The roof is supported are supported by the 10 incarnations of Lord Vishnu and other idols carved in the struts. The temple holds centuries old monuments, exotic stone and wood carvings, arts, crafts and lots more. You can view several monuments of this temple such as Historical pillar, Garuda, Statue of Bhupatendra Malla, Chanda Narayan, Sridhar Vishnu, Baikuntha Vishnu, Chhinnamasta, and Vishworup. Vishnu Vikrant, Narasimha, Kileshwor and tons of more full of histories as well as arts and crafts. Due to its histories and its historical & cultural importance, it has marked a spot in UNESCO world heritage sites list.
9, Swayambhunath Stupa
Swayambunath stupa is a religious site in Kathmandu which sits on the top of the Padmachala hill, 175 m above the valley and 3 km to the west of the city. The word Swayambhu means "the self-existent" in English. The stupa is built 2500 years ago by the King Manadeva which offers an opportunity to study the religious harmony in Nepal. The stupa is about 20 m in diameter and 10 m high. The white hemispherical mound represents the four elements subscribing earth, water, wind and fire. Each side of the square stone has the eyes of Buddha which is the sign of true wisdom. The painted eyes on four sides represent the all seeing eyes of Buddha and are watching all the time wrong doers and good doers. The Swayambunath complex comprises great stupa, shrines, monuments, temples, Musuem, library which takes us to ancient Lichchhavi period. The site has two access points: a long stairway, claimed to have 365 steps, leading directly to the main platform of the temple, which is from the top of the hill to the east; and a car road around the hill from the south leading to the southwest entrance. The first sight on reaching the top of the stairway is the Bajra. This is a very religious shrine of Buddhists Tibetan monks, Brahmins priests and Newars nuns are the major worshipers here. It has great historical and cultural values among Hindus and Buddhists of several Nations.
10, Boudhanath Stupa
Boudhanath stupa is the largest stupa (36 M high) of Nepal which is located about 8 Km North east of Kathmandu. The stupa was built in Lichchhavi Dynasty by king Dev in 5th century. There are many monasteries around the stupa as the area has been inhabited by people having faith in Buddhism. Buddhist monks on maroon robes are seen circumnutating the Stupa with prayer wheels on their hands. Numerous small stupas are located at the base. It has octagonal base and hemisphere dome is topped by the square structure painted with Lord Buddha's eyes with steps of enlightenment to the umbrella of Nirvana. Its base is surrounded by a wall with 147 niches each with 4-5 prayer wheels. The wheels are crafted with hundreds of notes of Buddha mantra "Om Mane Padme Hum" and with each turn of wheel hundreds of messages are sent to heaven symbolically. There is a Buddhist monastery and many Tibetan monks come to study here.